DMVU - Two Pairs of Eyes, Gazing Only at Each Other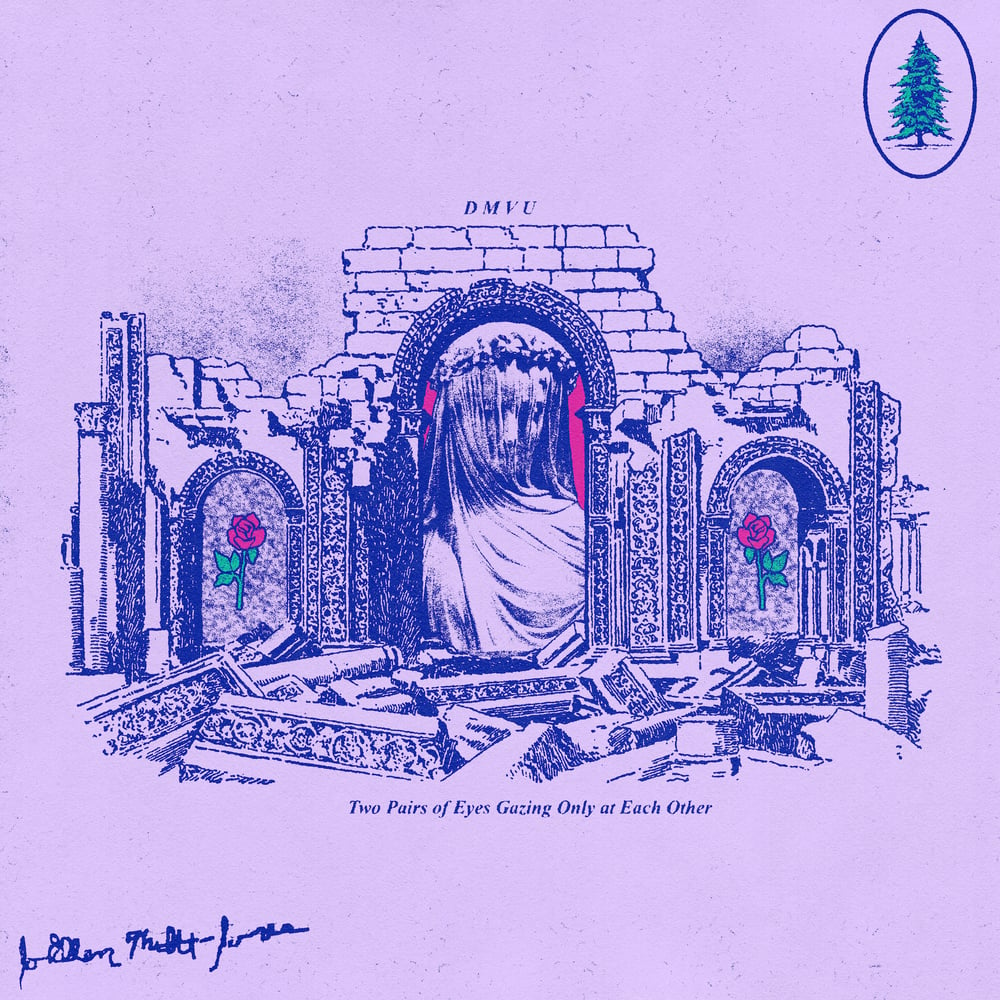 DOME OF DOOM RECORDS PROUDLY PRESENTS:
TWO PAIRS OF EYES, GAZING ONLY AT EACH OTHER by DMVU
Mathew Jones, aka DMVU, is etching an indelible mark into the future of bass music. DMVU's meticulous sound design has quickly gained the attention of a global audience. His songs don't just evolve along melodic arcs, they drip with evocative and narrative environments that lead the listener along a path that is exciting and new, yet familiar and contemplative. There is a maturity about DMVU's tonal palettes that is typically reserved for the likes of Hans Zimmerman and other elite cinema composers. The Denver, Colorado native has signed to Dome of Doom Records for the release of the new full-length album Two Pairs of Eyes, Gazing Only At Each Other, dropping worldwide on digital platforms and limited edition cassette April 17th.
Mostly known for his work in the dubstep arena, Two Pairs of Eyes, Gazing Only At Each Other is a departure from past works, presenting some of his most expressive and visionary work to date. Hovering in the realm of experimental electronic music and modern film scores, rather than hard dance floor anthems, every track is a journey into itself and one that connects to DMVU's origins as a recording artist. DMVU expands, "The majority of music I have released has been dance floor centered. Sound design and over the top rhythmic patterns. This album I decided to take a step back from all of that. Tried to keep it all much simpler. It's not something I thought of right away, but a lot of my friends who I have sent the album to have pointed out that it sounds like music I made when I first started nine years ago." Past experiences take on the core principles and meaning behind the album, with life presenting hurdle after hurdle during the three-year stretch it was made. A long-term relationship dissolving, nearly losing a house, and the passing of his mother are just a few things that deeply affected the making of this album.
Recordings for Two Pairs of Eyes... took place between 2016-2019 at DMVU's home studio in Denver, collecting works without the conscious intention of building an album. "I almost didn't really realize I was writing an album until I had most of it done. It's like I was subconsciously writing these tracks to fit together, But I didn't realize that until I started listening to them together." Despite the initial process and lack of intention on building a new record, there's a connective presence to the entire collection of works, generated as one standalone piece of sound that finds equality among the whole. The title for the record was pulled from a quote in Charlie Kaufman's 2008 drama Synecdoche, New York, paying homage to a film with influential roots to his art and a medium that has deeply affected his approach to making music. The entire sonic landscape of Two Pairs of Eyes... is vast, filled with amorphous overtones that swell over rushing synth, roaming bass lines, and panoramic drum lines. Every track glows with an ominous aura, still referential to and building on the dance ethos of his past works while layering out fields of dreamy worlds and extended compositions. Tempos shift, layers drift into the furthest reaches of the mix, creating a vastness that breathes in every moment on the songs.
DMVU is connected to many artists in the Dome of Doom family previous to his release on the label. Early on in the development of what is now the bustling Bass Music scene, DMVU met Tsuruda and Gangus through their mutual friend Dr. Derg when the three of them lived together in Denver. At the time, Mathew thought he was the only person in Denver making his style of music, and finding like minds who were experimenting with more far-reaching sounds in electronic music helped cement his vision for what he wanted to do with his own musical projects. Phil Matthews, aka Gnostikos, who created the album art for Two Pairs Of Eyes..., was also a bridge for DMVU, meeting influential artists like Dr. Derg, Gangus, and Kin through him around 2016. During Huxley Annes 'Ilium Tour,' DMVU played a show in Portland with Onhell, Truth, and Huxley Anne. This was their first time meeting in person after being fans of one another's music for several years. DMVU is also long time friends with Nasty Nasty, another member of the DoD family. They originally met at a renegade desert party outside Vegas that they both played.
With tour support for artists like Noisia, Bleep Bloop, Boombox Cartel, Yheti, and Todaface, DMVU has also been repeatedly invited to share the stage with the likes of Hudson Mohawke, The Widdler, and Truth. Until recently, DMVU was on a co-headlining nationwide run of shows with Tvboo's "Eat My Sass" tour, performing at venues like The Great Northern (SF), The Bluebird Theatre (Denver), and Avant Gardner (New York).
DMVU's new full length, Two Pairs of Eyes..., is a powerful statement from the seasoned producer, following a slew of 12" and digital releases over the last five years on respected labels such as Encrypted Audio, Deep Dark & Dangerous, Circus Records, Code 9, and Sure State. Grab a copy of Two Pairs of Eyes, Gazing Only At Each Other on limited edition cassette and digital formats April 17th via Dome of Doom.